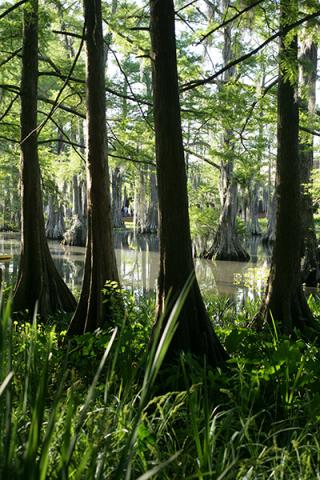 The University of Louisiana at Lafayette campus includes demonstration farms, recreational areas, and research centers, all of which are part of a carefully cultivated environment that reflects the natural beauty and culture of Acadiana. Our campus is composed of more than 250 buildings covering over 3.6 million gross square feet of building area. In addition to these immediate holdings, we possess over 1300 acres of intensively developed experimental agricultural areas. The main campus plant features over 150 acres of land and over 2.1 million square feet of buildings concentrated in the heart of Lafayette, Louisiana. This section of campus is surrounded by residental areas, commercial centers, and public spaces. Easy access to our campus is provided by a number of major city streets; Interstate 10 is within three miles to the north of the University.
Filled with cypress knees, tupelogum trees, and alligators, Cypress Lake lies at the very heart of the UL Lafayette campus. This majestic lake is a popular attraction for both vistors and students alike, showcasing the simple beauty of Acadiana's native flora and fauna. Further accenting the natural beauty and ambience of the University environment are the approximately 300 Live Oaks scattered about the main campus, many of them having existed here for over a century. The University was originally concieved as a rectangular campus centered around an open quadrangle. However, expansion during the 1950's and 1960's forced the University to expand beyond these original boundaries. The most recent additions to the campus include C.L. Rougeou Hall, the Life Science Center, and Abdalla Hall, located in the University South Campus Research Park.
Located adjacant to the main campus on 145 acres of prime University property, the South Campus Research Park is best known as the home of the USGS National Wetlands Research Center and the NOAA Estuarune Habitat Coastal Fisheries Research Center. Our University was selected as the home for these institutions in large part due to the sterling reputation of our University's renowned Biology Department. Other University Research Park residents include the Apparel Computer Integrated Manufacturing Center, the NASA Regional Application Center, The Lafayette Primary Care Center, the U.S. Army Corps of Engineers, and the U.S. Department of Agriculture.
The University possesses additional off-site research facilities in various municipalities throughout Acadiana. Our Cade research facility features a 600-acre farm laboratory, and a 30-acre pond for crawfish and catfish culture. The New Iberia Research Center is is famous for its 148-acre primate research center.And our Cocodrie research facility is the focal point of a consortium of marine biologists, attracting the attention of top scientists from around the world. Working in concert with the educational facilities our University has to offer, these research centers produce valuable scientific data that not only affects the academic community, but directly improves our quality of life in the post-industrial world.